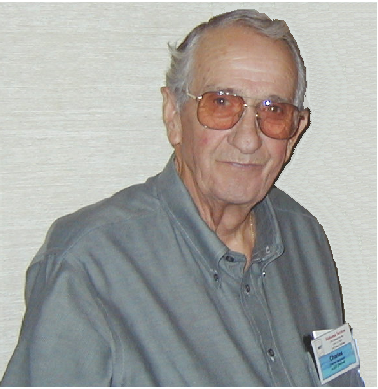 Two of Charles E. Alexander's achievements mark him as the father of the traffic engineering profession in Alabama. First, he was the initial State Traffic Engineer of the Alabama Highway Department, at a time of significant development of the highway system. Second, his untiring efforts led to the formation of what is now the Alabama Section of the Southern District of the Institute of Transportation Engineers (ALSITE).
Charles was a native of Montgomery, Alabama and graduated from Montgomery High School. He also attended Auburn University and the Traffic Institute at Northwestern University. He began his professional career with the City of Montgomery in August of 1956 and served as Assistant City Traffic Engineer. In August of 1966 he became the first State Traffic Engineer in the newly formed Traffic Engineering Section of the Alabama Highway Department. At that time, the Department's traffic engineering functions exhibited little organization or standardization. His excellent early decisions led to sound State procedures for traffic studies and control devices. By the time of his retirement from the Department in August of 1992, his steady, sure hand was evident in the high quality of traffic control devices along Alabama's highways.
Charles was a long-term member of the Institute of Transportation Engineers. He became an Associate Member in 1961 and was elected to the grade of Fellow in 1972. He was instrumental in the establishment of the Auburn University ITE Student Chapter in 1976. Throughout his career he encouraged engineering students across the State to enter the field of Transportation Engineering and to become active members of ITE. In 1972 at the 20th Southern Section ITE Annual Meeting in Memphis, Tennessee, Charles arranged an informal meeting of Section leaders to discuss forming a Division of ITE in Alabama. Afterwards, Charles volunteered to contact all Alabama ITE members and arrange a membership meeting in Montgomery to formerly petition the Southern Section for an Alabama Division Charter. The organizational meeting of the Alabama Division was held at the Sahara Restaurant (well known in Montgomery as a political watering hole) on June 29, 1972.
Division Bylaws were adopted in accordance with Southern Section requirements and Charles was elected the first President. But first a huge procedural issue had to be resolved. The Southern Section's Bylaws required that a minimum of 12 ITE Members be in attendance, in person or via proxy, for formal adoption of a partitioning Division's Bylaws. At that time only 11 ITE Members resided in Alabama. Not to be deterred, Charles reasoned that since Harold Raynor, Immediate Past President of the Southern Section, was in attendance at the meeting…..12 ITE members had indeed participated! Over the years the resolution of this issue has been fondly referred to as…..Charles' creative counting.
Charles' peers recognized his leadership by selecting him to receive the first ALSITE Transportation Safety Award and the ALSITE Transportation Engineer of the Year Award in 1985. In 1986 the Southern District awarded him the highest honor that it could bestow upon one of its Members, the Herman J. Hoose Distinguished Service Award. Charles E. Alexander passed away on December 10, 2004 at his home in Montgomery, AL. By example and leadership, Charles E. Alexander made an indelible mark upon his profession, and Harold M. Raynor ALSITE Scholarships is proud to perpetuate his efforts through this scholarship.