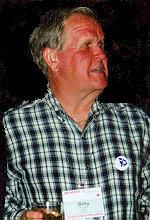 Billy Jones was a native of Elmore County, Alabama and graduated from Wetumpka High School in 1959. He attended Auburn University and the Traffic Institute at Northwestern University, and was a member of the Alabama National Guard. Billy was approved for Associate Membership in the Institute of Transportation Engineers in 1973 and attained the grade of Member in 1977.
He was elected Secretary-Treasurer of the Alabama Section in 1978. He served as Vice President in 1979 and was elected the Section's 9th President in 1980. During his professional career, Billy was a Member of the Southern District, and the Alabama, Deep South, Georgia and Tennessee Sections of ITE.
Billy's heart and soul showed in the way that he lived and the way that he loved his profession. He was an early advocate of the Alabama Section's efforts to establish a scholarship program and put his full support behind it. His financial contributions and bidding antics at the Annual Scholarship Auction (to drive up prices and generate more scholarship money) are legendary.
Billy began his professional career with the Alabama Highway Department on January 1, 1960 as an Engineering Assistant. On July 1, 1968 he became Assistant Traffic Engineer in the newly formed Traffic Engineering Section under the leadership of Charles Alexander, State Traffic Engineer. He specialized in signalized intersection design and was responsible for the statewide program to upgrade signalized intersections.
Between November 1971 and December 1972 he worked with North Brothers Construction Company as a Construction Superintendent. But in December of 1972 he returned to his prior position with the Alabama Highway Department. Starting March 1, 1982, he served as Southeastern Regional Sales Manager for Winko-Matic Signal Company. On August 1st of 1987 Billy became a Sales Manager for SASCO working out of their Headquarter Offices in Birmingham. He relocated to SASCO's Florida Office in April of 1992.
Back in 1970, the golf bug bit Billy and he attacked the sport with his usual gusto and determination. By 1972 he had a single digit handicap. Billy had a deep passion for the game, but because of lingering health issues was just beginning to return to his earlier form at his untimely death in 1999. Billy's life ended prematurely in a collision on Wednesday night April 28,1999 in Punta Gorda, Florida. While traveling south on I-75 during a heavy thunderstorm, his vehicle skidded out of control on the rain-slick pavement and crossed the median into the path of northbound traffic. At the time, he was a resident of Cocoa Beach, Florida and was employed by SASCO as Sales Manager in their Cape Canaveral Office. He was 58-years old at the time of his death.
Two of the staples of his life, the Alabama Section ITE scholarship program (ALSITE Scholarships Inc.) and the golf tournament at the Annual Meeting in Gulf Shores are imprinted with his smile and enthusiasm. These provide members of the Section with lasting and loving memories of Billy. Though slight in statue…..Billy is remembered fondly as a consummate transportation professional and as a true southern gentleman with a Big Heart. Harold M. Raynor ALSITE Scholarships is proud to honor Billy's memory by administering this scholarship award.